CCannelloni pasta tubes are packaged with a cheesy ricotta and chicken filling and topped with a creamy and delicious tomato sauce. Simple, super easy and very delicious!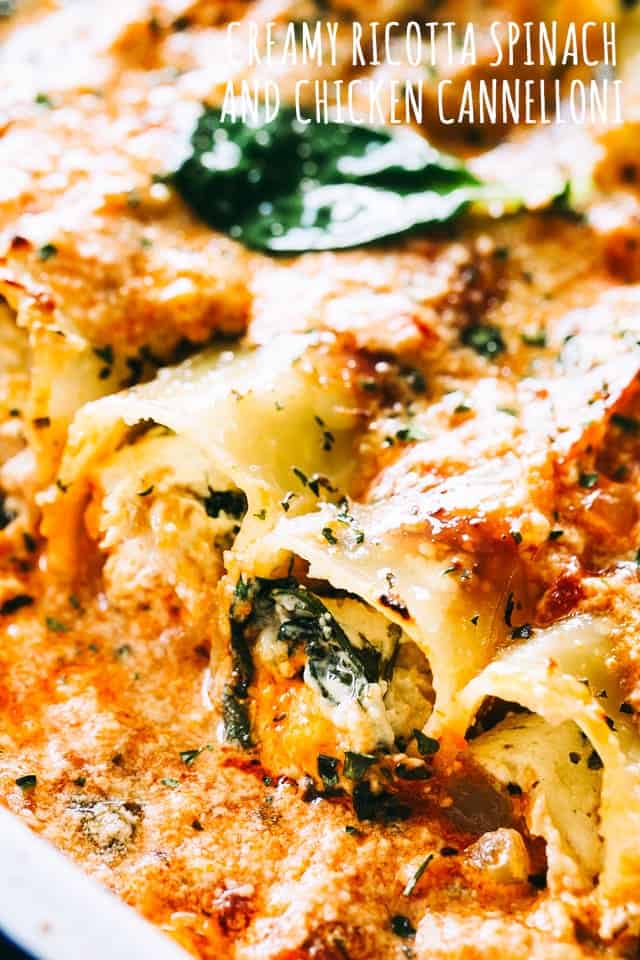 HOW TO PREPARE CANNELLONI
Bonus tip about this recipe? You don't need to precook the pasta! Say whaaaat?! *elevating the roof*
Edit: Some commenters have stated that their tubes wanted to be precooked as a result of they have been nonetheless crunchy after baking. I recommend to precook the cannelloni tubes in boiling water for five minutes earlier than filling with the chicken combination.
The cannelloni tubes are full of a heat combination of chicken (use cooked leftover chicken or rotisserie chicken), cheese, and recent spinach.
The ready cannelloni are then transferred to a baking dish and organized over some pasta sauce. Use your favourite pasta sauce, home made or retailer purchased.
For a crowning glory, the cannelloni are topped with a mixture of Half & Half and cheese, a liquid that the cannelloni will prepare dinner in whereas baking.
Ingredients
12 cannelloni tubes
1 tablespoon olive oil
1 yellow onion, diced
2 cloves garlic, minced
3 cooked chicken breasts, finely chopped
1/2 cup milk
1 cup part-skim Ricotta cheese
1 bag (8 to 10 ounces) baby spinach
salt and fresh ground pepper, to taste
1 cup pasta sauce
1 1/2 cups half & half
1/4 cup grated Parmesan cheese
1/2 teaspoon dried basil
1/4 teaspoon dried oregano
1/8 teaspoon ground nutmeg
salt and fresh ground pepper, to taste
Instructions
Cook cannelloni tubes for 5 minutes in boiling water; rinse and set aside to cool for a few minutes, or just until cool enough to handle.
Preheat oven to 400F.
Heat oil in a large skillet over medium-high heat.
Add onions and saute for 2 minutes; stir in garlic and chicken and continue to cook for 4 minutes.
Add milk and simmer for 2 minutes, or until most of the liquid has evaporated.
Stir in ricotta cheese until well blended.
Add spinach and cook for 2 minutes, or until wilted.
Remove from heat and let stand a few minutes, or until cool enough to handle.
Spoon pasta sauce on the bottom of a 9×13 baking dish and set aside.
Using a spoon, your hands, or even a piping bag, stuff the prepared chicken mixture into cannelloni tubes.
Arrange the cannelloni in a single layer on the bottom of the previously prepared baking dish. Set aside.
In a mixing bowl, combine half & half, parmesan, basil, oregano, nutmeg, salt, and pepper; whisk until thoroughly combined.
Pour the half & half mixture over the cannelloni.
Bake in the oven for 18 to 20 minutes, or until top is golden brown and the cream is reduced.
Remove from oven and let stand 3 minutes, or until sauce has slightly thickened.
Spoon the sauce over the cannelloni and serve.