Instant Pot Crack Chicken is a delicious combination of chicken breasts, cream cheese, crispy bacon, and ranch seasoning mix, all cooked together to create a creamy, cheesy, and incredibly awesome meal. This creamy crack chicken makes an easy low carb, Keto dinner that you'll go back to again & again.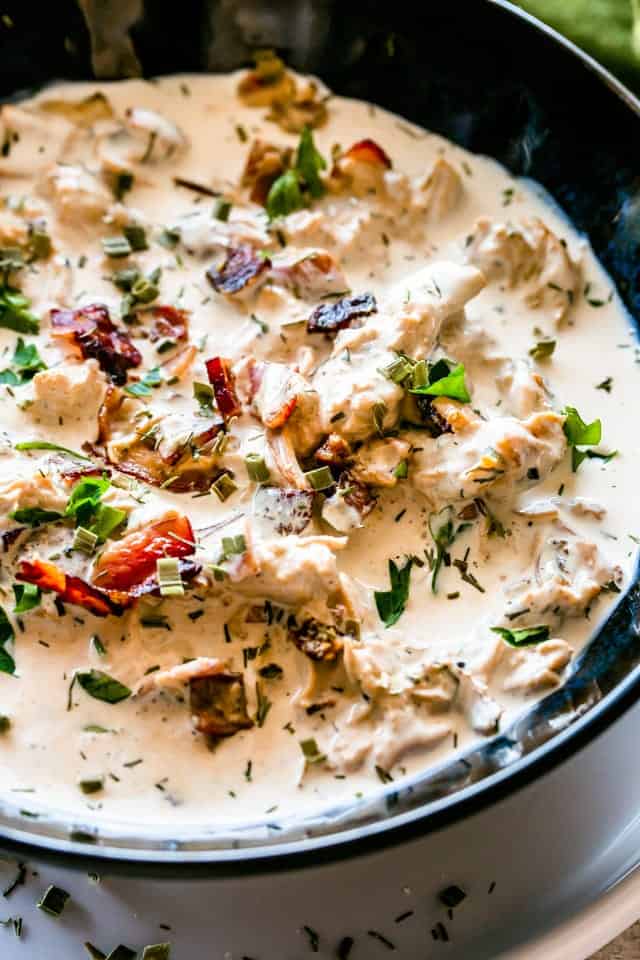 Instant Pot Crack Chicken is an easy, one pot meal that cooks in record time!
This instant pot recipe makes creamy chicken thats comforting and hearty, but also low carb and keto friendly. Can I get a WHAT!? WHAT!? This is the Instant Pot chicken recipe of your dreams!
You guyyyyys! We are talking about a dinner that includes chicken + bacon + cream cheese + ranch seasoning. I meeeean…
For our soccer/football/game parties, I keep it inside the Instant Pot on the "warm" function for people to just scoop it onto their plate, or to fill up their sandwiches.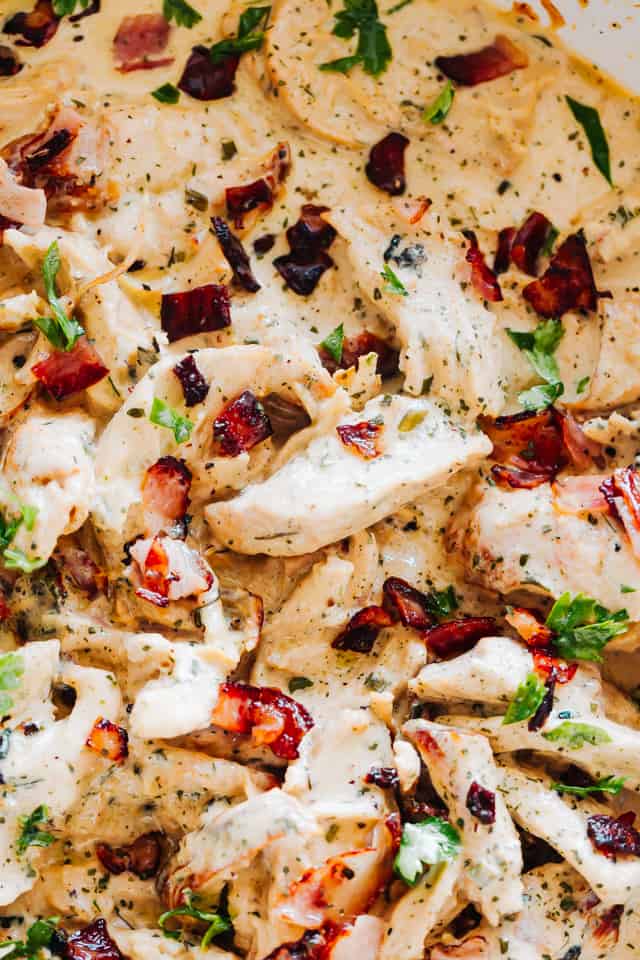 If you don't have an Instant Pot, you need one if just for this recipe, only. AND, for my Instant Pot Honey Garlic Chicken.
Seriously, KETO Crack Chicken will change your life, especially when you can make it in no time because of the Instant Pot. Let me just tell you how easy this recipe is because of it.
HOW TO MAKE CRACK CHICKEN IN THE INSTANT POT
In a nutshell, everything is going into the Instant Pot for 20-ish minutes.
Start with heating up your Instant Pot and add diced bacon; cook for a couple minutes, or to a desired crispness. Remove bacon and set aside.
Heat some oil in the Instant Pot and brown your chicken breasts on all sides, for about 2 minutes per side. You don't have to brown the chicken – it's up to you – but I think it's better if you do.
Add chicken broth to the Instant Pot, plus a block of cream cheese, and your ranch seasoning mix that includes; dried dill, dried chives, garlic powder, onion powder, salt, and pepper.
Cook on HIGH PRESSURE for 12 minutes, then do a quick release.
Remove chicken from the Instant Pot and shred it.
Stir the chicken back into the Instant Pot; place the lid back on the Instant Pot (powered off) and let stand for 5 minutes to thicken the sauce.
HOW TO MAKE CRACK CHICKEN IN YOUR CROCK POT OR SLOW COOKER:
Add the chicken, cream cheese, AND ranch seasoning to a slow cooker; cook on low for 5 to 6 hours or on high for 3 to 4 hours. OR, until chicken shreds easily. Once shredded, toss it back in the slow cooker and stir. Add in crumbled bacon and serve.
COOK'S NOTES: TIPS FOR PERFECT CHICKEN
IF the sauce is too thick, stir in a bit of water.
IF the sauce is too thin, make a slurry with cornstarch and a little cold water; mix until smooth. Stir the mixture into the hot liquid until it's blended.
You can use a Ranch Seasoning packet if you want, but I suggest making it from scratch. The store-bought stuff has too much sodium.
WHAT DO YOU EAT CRACK CHICKEN WITH?
Crack chicken is basically a chicken filling meant to be used in sandwiches, but we can always go a step further and add crack chicken to:
Salads
Lettuce Wraps
Low Carb Flour Tortillas
You can also serve it as a dip for veggies.
Obviously, Instant Pot Crack Chicken is an easy dinner recipe, the kind of dish that requires very minimal work on your part. All you have to do is get out your Instant Pot, toss in the ingredients, and turn up the heat. Then, EAT!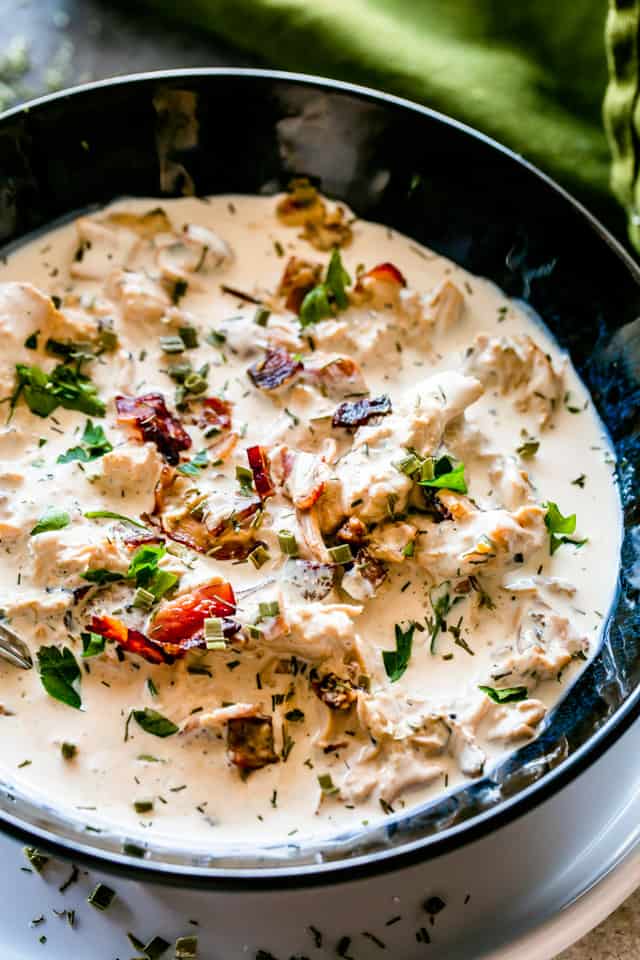 CAN YOU FREEZE CRACK CHICKEN?
Yes, you absolutely can.
Let it cool down completely; then transfer it to a large freezer bag or airtight container. Store in the freezer for up to 3 months.
When ready to serve, remove from freezer the night before and let thaw in the fridge overnight.
Reheat and serve.
Ingredients
4slices thick cut bacon, diced
FOR THE CHICKEN BREASTS
1tablespoon olive oil
1pound boneless skinless chicken breasts
1/2teaspoon paprika
1/2teaspoon garlic powder
salt and fresh ground pepper,to taste
FOR THE CREAM CHEESE + RANCH SEASONING MIX
8ounces cream cheese, room temperature
1/2teaspoon garlic powder
1/2teaspoon onion powder
1/2teaspoon dried dill weed
1/2teaspoon dried chives
salt and fresh ground pepper, to taste
1cup low sodium chicken broth
FOR GARNISH
chopped fresh parsley
sliced green scallions
Instructions
Press the "Sauté" button on the Instant Pot and wait for it to heat up.
Add the diced bacon and cook for a minute or two, or to a desired crispness. Remove from the Instant Pot and set aside.
Heat olive oil in the Instant Pot.
Season chicken with paprika, garlic powder, salt, and pepper.
Once olive oil is hot, add the chicken breasts and brown on both sides; about 2 minutes per side.
In the meantime, place cream cheese in a mixing bowl and season with garlic powder, onion powder, dried dill weed, dried chives, salt and pepper; mix to combine.
On the Instant Pot press "Cancel" to stop sautéing.
Add cream cheese mixture to the Instant Pot.
Pour in the chicken broth.
Turn the pot on Manual High Pressure for 12 minutes; then do a quick release.
Remove lid and transfer chicken to a cutting board to shred it.
Stir the shredded chicken back into the Instant Pot; place the lid back on the Instant Pot (powered off) and let stand for 5 minutes to thicken the sauce.
Top with previously prepared bacon, fresh parsley, and scallions.
Serve