Ground Turkey Black Bean Enchiladas – Loaded with ground turkey and black beans, these saucy, cheesy enchiladas are super easy to make and are always everyone's favorite!
First of all, happy Sunday, my dear friends! I imagine you taking a long Sunday morning break with your feet propped up on the couch, remote in one hand, and your laptop in the other. Am I right?!
Oh Oh! I also see some of you reading the newspaper! Can it really BE? Like, real paper?? Get out. I don't believe it…
And is anyone heading out to Church, or place of worship?? It's what I SHOULD be doing… hopefully I'll make it there a bit later today.
Second of all, my mouth is in love. Staring at these photos, remembering these awesome turkey black bean enchiladas… they've got a zing of tangy enchilada sauce deliciousness, and they are 1000% addicting.
They are all so darn very good, and I have a 4-year old that agrees 100%.
I have to say, after having these two little kids, persuasion towards food is a skill I've pretty much mastered. #truth
AND if they really really reallllyyyy love something I've made? Like, mucho love?? That something ends up on this bloggy of mine almost 99% of the time.
Example: Ground Turkey Black Bean Enchiladas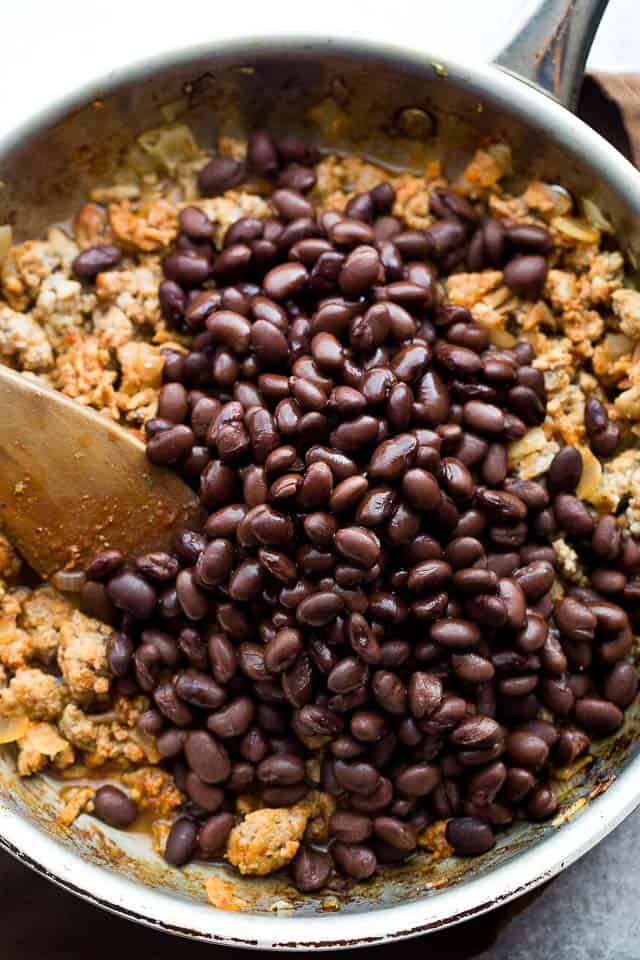 After the initial shade thrown at the black beans – Mom, they look like bugs!! MOM! Don't make us eat it! MOM! ewwwww, yuuuuck, grozzzzzzz!! – I made them try it and I made them love it!
Okay. LOVE is a pretty strong word, but for first timers, they did a-ok.
To make these lovelies, you're going to need some ground turkey (obvi), black beans (also obvi), enchilada sauce (canned is cool!), low carb flour tortillas (yeah, no corn tortillas…), cheese, some spices, and 45 minutes. We cool?
Ingredients
2teaspoons olive oil
1large yellow onion, diced
3cloves garlic, minced
1pound extra lean ground turkey
1/2teaspoon ground cumin, or to taste
1/2teaspoon chili powder, or to taste
1teaspoon dried oregano
salt and fresh ground pepper,to taste
2tablespoons tomato paste
1can black beans, rinsed well and drained
1/2cup low sodium chicken broth
1whole lime, juiced
12(6-inch) low carb flour tortillas
1/2cup low fat shredded sharp cheddar cheese
1/2cup shredded Monterrey Jack cheese
1 1/2cups red enchilada sauce, divided
thinly sliced green onions,for garnish
light sour cream,for serving
lime wedges,for serving
Instructions
Grease a 13×9 baking dish with cooking spray and set aside.

Heat olive oil in a large nonstick skillet over medium-high heat.

Add onions and cook for 2 minutes.

Stir in garlic and continue to cook for 30 seconds.

Add the ground turkey; season with cumin, chili powder, oregano, salt and pepper.

Continue to cook for 5 minutes, or until browned, stirring frequently.

Stir in tomato paste until well incorporated.

Stir in beans, chicken broth, and lime juice, and bring to a boil; cook for 1 more minute, stirring frequently.

Place 1 tortilla on your working surface and spoon about 3 tablespoons of the turkey mixture onto one end of the tortilla.

Roll up the tortilla and set aside.

Repeat with remaining tortillas and ground turkey mixture.

Spread 1/2 cup enchilada sauce on the bottom of previously prepared baking sheet.

Arrange rolled up tortillas seam side down over the enchilada sauce.

Pour remaining sauce over enchiladas and top with cheeses.

Bake for 18 to 20 minutes, or until hot and bubbly.

Remove from oven and let stand few minutes.

Garnish with sour cream and green onions.