One Pan Maple Mustard Chicken and Potatoes – Easy and absolutely amazing one pan dinner with chicken thighs and potatoes cooked in a delicious maple syrup and mustard dressing.

Hey, you guys!! How's it going? I hope 2017's first week is treating you very well!  I bet this Maple Mustard Chicken and Potatoes will make things EVEN better.
Clearly, my obsession with ONE pan/pot dinners continues, as does my love for mustard-on-all-the-things. Really?!? Anyone else feel that way? I mean, gosh, that's like crushing all my cooking dreams! Besides, I DO brown the meat AND remove it from the pan so to cook the rest of the food. That counts for something, right?!
Fortunately, some of my awesome fans came running to my defense and she quickly backed off.
P.S. She used some ugly words toward me and that is why others jumped in.
SO, to prove my point – one pan dinners are da best thing since the invention of microwave dinners – I made yet another delicious recipe that puts everything in one pan, and allows dinner to make it to the table in under 1 hour. Less cleanup and more time to enjoy to yourself. Or more time to fold laundry… wash dishes, help with homework, run on the treadmill, etc…

THIS is what 5 INGREDIENTS in ONE PAN looks like. Any questions?!
Howeverrrr… this one DOES include all raw food in one pan… *shrug* OH, let's just live a little!
Also, it's going to get so, so, soooo much better once you brush that maple-mustard sauce over the chicken and the potatoes.
HERE'S WHAT YOU'RE GOING TO DO WITH THIS MAPLE MUSTARD CHICKEN:
clean up those pretty little potatoes, cut them in half, season, and transfer to a large oven-safe skillet. Next, you are going to find some skinless chicken thighs, season those, and arrange them right around those potatoes.
To make the sauce, please use your favorite brown mustard and maple syrup. Once you combine those two, please pour that amazingness over the chicken and potatoes, toss around to coat, and roast for about 40-ish minutes in the oven.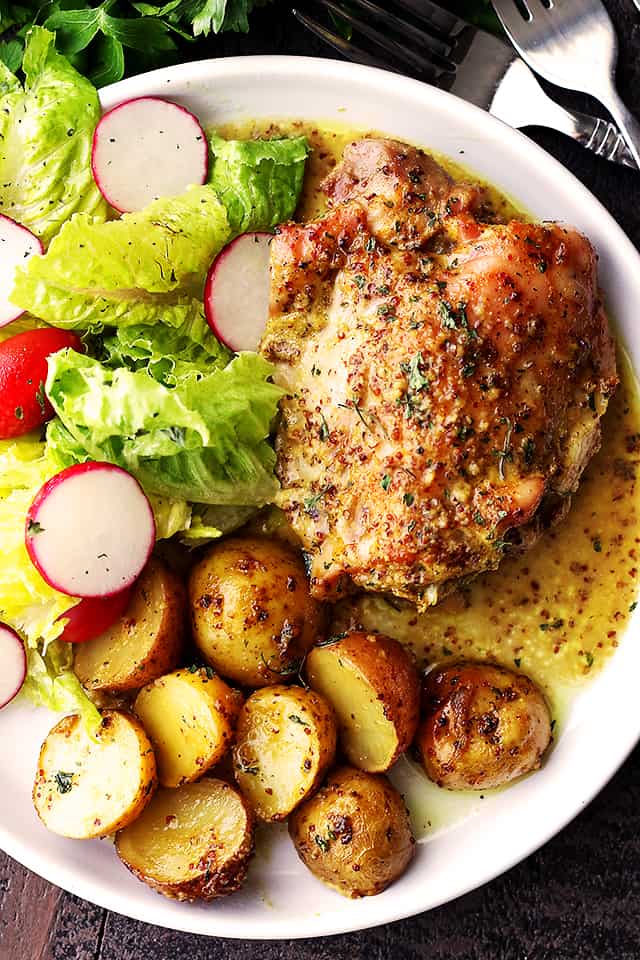 Ingredients
4 skinless , bone-in chicken thighs
1 to 1-1/2 pounds small (about 1 to 1.5 inches in diameter) new potatoes , halved
1 tablespoon olive oil
salt and fresh ground pepper to taste
1/3 cup brown mustard
1 tablespoon yellow mustard
1/4 cup maple syrup
chopped fresh parsley , for garnish
Instructions
Preheat oven to 375F.
Season chicken and potatoes with olive oil and salt and pepper; transfer to a nonstick pan or 12-inch skillet that is oven safe. Set aside.
In a small mixing bowl, combine mustards and maple syrup; whisk to combine.
Pour the mustard mixture over the chicken and potatoes; toss to coat.
Bake for 45 to 50 minutes, or until chicken is done cooking and potatoes are tender.