Lemon Bread Recipe – Packed with lemon flavor, this easy to make quick bread is sweet, crumbly, lightened-up, and incredibly flavorful! The Lemon Glaze takes it over the top!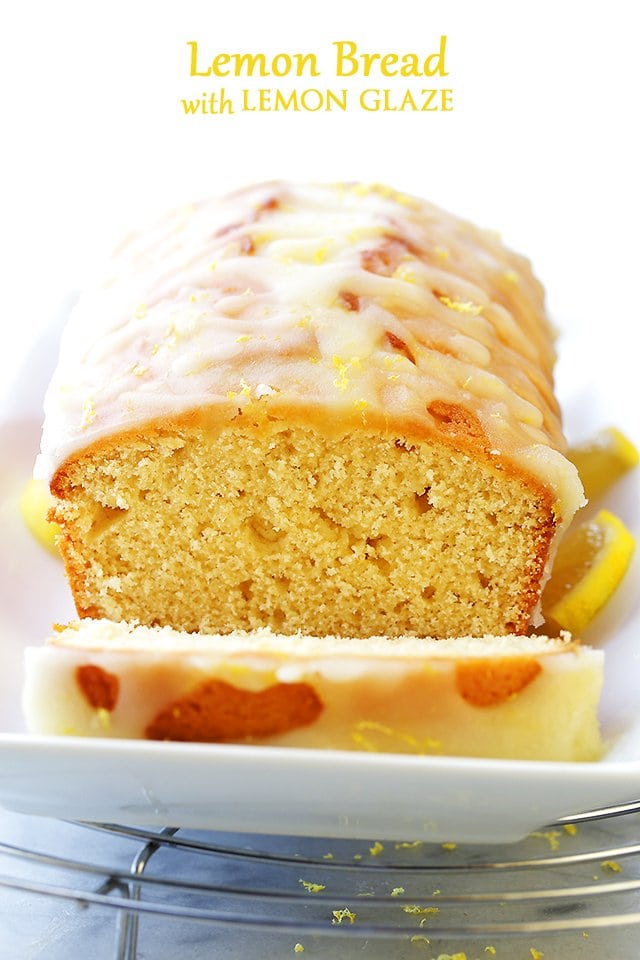 My face just puckered up! Yours, too? Blame it on the lemony lemons!
Hi, friends! Happiest of Fri-YAYS! These past 3 days, we were in the middle of Snowmaggedon, but today it looks like a solid Sunny day with temps of around 34F!
I sound like the channel 5 weather report, but you'd be just as excited if you also experienced the 3 days of Snowzilla.
Also, side note, every single darn, "Mom, I'm bored!!!" and "Mom, I hate my sisterrrrr!!!", was punished with both of my girls sitting on the couch and  holding hands while listening to MY playlists. Day.Made.
Also, second side note, we ate two loaves of this Lemon Bread throughout the entire 3 day ordeal. My Ana, which is like the kid that thinks french fries and mac 'n cheese are the only food groups, ate 3 slices and called Grandma to tell her about how good it was. So that says somethin', you know?
At some point, I found the produce aisle and bought three 2-pound bags of lemons.
Wait. Look at this! Don't you just want to take a bite?! Did you pucker up again?
Ooooh but. It's lemon glaze – over lemon bread! Uh. Hello heaven. I could probably eat this, face first, without my hands. Wild child.
Here's the good news. There's 193 calories per slice here. That's not bad, boo!  You could have two slices with a cup of tea or coffee and call it a hearty breakfast!
OH OH! Third side note! Brilliant idea: This should be on your Easter Brunch menu! I'd make two loaves for that, just to be on the safe side.
And, as you may know, I try to lighten-up desserts as much as I can, so here I used some soy milk instead of whole milk, and Ultragrain All-Purpose Flour for a bit of whole grain in our cake. bread. loaf? whatev.
But you know this and I won't bore you, other to say that this Lemon Bread is easy. The only thing is that it's slightly time consuming but it's time spent sitting around while waiting for it to completely cool. I like to make it the night before and then glaze it the next morning, right before breakfast.
The reality?
THIS!
ENJOY!