Baked Crack Chicken Breasts, also referred to as Ranch Chicken with Bacon, is a delicious and creamy dish loaded with cheese and bacon. Hard to believe that Crack Chicken is also Low Carb and Keto-Friendly!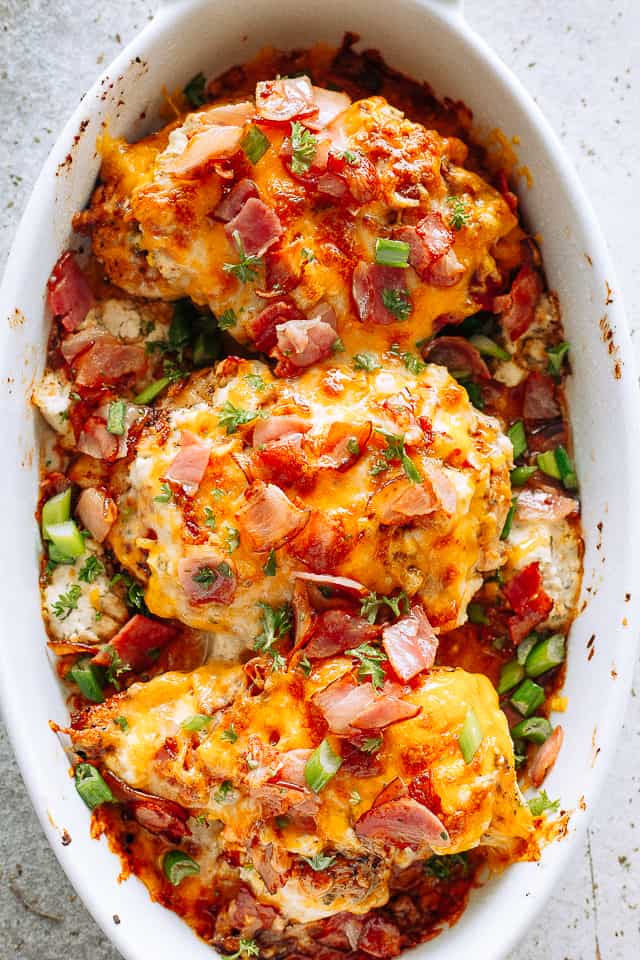 WHAT IS CRACK CHICKEN?
Crack Chicken is a deliciously creamy combination of chicken, bacon, cream cheese, and ranch seasoning. This family-friendly, make-ahead meal is a great weeknight dinner, but also perfect for a weekend crowd.
Looking for an easy baked chicken recipe? YOU GOT IT! Just hit print because this cracked-out chicken is what your Monday needs. Need an Instant Pot version? Hop on over to my recipe for Instant Pot Crack Chicken.
WHAT in the heck is "Crack" Chicken, you ask? Well, according to the internetS, this recipe got its name because ranch chicken is addictive… just like crack. Basically what happened in this meal is that everything good found its way in one dish and everyone approved.
And you won't believe just how easy this is to make.
HOW TO MAKE BAKED CRACK CHICKEN BREASTS
We start with frying our bacon until crispy.
Remove cooked bacon from skillet. Keep bacon grease in the skillet and add the chicken breasts to cook just until browned on both sides; about 2 to 3 minutes per side. When done, transfer chicken breasts to a baking dish.
Prepare the cream cheese by adding a tablespoon of ranch seasoning to it. I make my own ranch seasoning, but you can also use store-bought. Mix it up well and then spread a couple tablespoons of the cream cheese mixture on top of each chicken breast.
Top with cooked bacon and cheese; bake in a 400F preheated oven for 15 minutes, or until chicken is cooked through.
Remove from oven and serve.
All in all, you will need about 30 minutes from start to finish.
Besides, how can anyone not want this? Starting with the fact that it's made with crispy bacon and ranch flavored cream cheese, and ending with the fact that it's going to have that golden, melty cheese on top. ALSO, LOW CARB and KETO.
Friends, git 'er done!
MAKE AHEAD CRACK CHICKEN
Assemble everything in the baking dish, but don't bake. Cover with plastic wrap and refrigerate for 1 to 2 days.
Remove wrap and bake as directed.
HOW TO FREEZE CRACK CHICKEN
Transfer cooled crack chicken to an airtight container. Store in the freezer for up to 3 months.
When ready to serve, remove from freezer the night before and let thaw in the fridge overnight.
Reheat and serve.
Pan-Fried Creamy Mushroom Chicken
Slow Cooker Creamy Sun Dried Tomato Chicken
Ingredients
4slices thick cut bacon, diced
FOR THE CHICKEN
1tablespoon vegetable oil
1tablespoon butter
4(1-pound, total) boneless, skinless chicken breasts, pounded to 1/4-inch thickness
salt and fresh ground pepper,to taste
1/2teaspoon garlic powder
1/2teaspoon smoked or sweet paprika
FOR THE RANCH CREAM CHEESE
4-ounces cream cheese, softened
1/4teaspoon garlic powder
1/4teaspoon onion powder
1/4teaspoon dried dill weed
1/2teaspoon dried chives
4ounces shredded cheddar cheese, white or yellow – I use a little of both
FOR GARNISH
chopped fresh parsley
sliced green scallions
Instructions
Preheat oven to 400F.
Lightly grease a 9×13 baking dish with cooking spray and set aside.
Set a large skillet over medium-high heat and add in diced bacon; cook until crispy.
Remove bacon from skillet and set aside. DON'T discard bacon fat.
Return skillet to heat and add vegetable oil to the remaining bacon fat.
Pound chicken breasts to a 1/4-inch thickness and season with salt, pepper, garlic powder, and paprika.
Add chicken breasts to the hot oil – you may have to do this in batches if skillet isn't big enough – and cook chicken breasts for 2 to 3 minutes, or until golden brown.
Flip over the chicken breasts, add butter, and continue to cook for 3 more minutes.
Remove chicken breasts from skillet and arrange in previously prepared baking dish. Set aside.
In a small bowl combine cream cheese, garlic powder, onion powder, dill weed, and chives; mix until thoroughly combined. Taste for seasonings and adjust accordingly. *You can also just stir in 1 tablespoon of store-bought ranch seasoning.
Top each chicken breast with 2 tablespoons of the cream cheese mixture. Spread to coat the surface of each chicken breast.
Take half of the bacon and add on top of the cream cheese.
Sprinkle shredded cheese over the chicken breasts.
Bake, uncovered, for 15 minutes, or until chicken is cooked through and cheese is melted and lightly browned.
Remove from oven.
Garnish with remaining bacon, fresh parsley, and scallions.